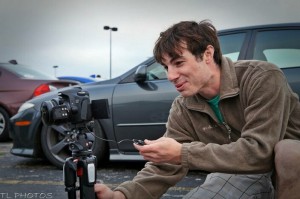 Credentials: The head tuner is Jonathan Denk.   Currently has experience with Hondata S200, S300, K-Pro, Flash-Pro, Crome, Neptune, Cobb, FAST, DSM Link, and DiabloSport.  Honda, Mitsubishi, Subaru, Dodge, and Chevy.  He primarily knows Hondas, and is very strong with Honda knowledge and build/tuning techniques.  Besides software, extensive experience building motors, transmissions, suspensions, and electrical wiring and components as a hobby.  He runs IonPCs LLC computer sales and service company from Portage Indiana, full-time.
What we do: Street tuning.  Put simply, we make your car safe to drive, without an expensive trip to the dyno.  We can travel to you.  We tune just about anything, contact us!
How we do it: No smoke and mirrors here.  Using your Engine Management System of choice, and your wideband o2 sensor, coupled with our computers, software, and knock sensor audio equipment, we make sure you're running safe.
What do we charge: Street tuning is $100 per hour.
Can you dyno tune too: Yes, no problem.  These fees can fluctuate depending on dyno location.  We make sure your tune is close, before going to the dyno.  We also make adjustments after the dyno session, such as temperature corrections or boost by gear optimization.
Hmm, so how long does it take: It usually takes an 1.5 to 2 hours to make a car run from dead scratch.  Reduce that time, the better you run already.  And remember!  You're car needs to work properly, or it will only take longer.
I don't have a wideband o2, now what: Sorry, for right now, we don't have a dedicated wideband for our customer tuning.  You will need to have one installed (and connected to your engine computer).
Awesome, I'm cool with all of that, what's the risk: It's not risky at all.  The entire tuning process is data-logged, and constantly reviewed for bad behavior.  Further, we will make sure the mechanics under the hood are also performing on par.
What exactly can you do: Simply put, a lot.  We will adjust your air/fuel ratios and ignition timing to within safe levels, if you're running a new engine.  If your already running, we can adjust compensations for things like intake air temperature or engine coolant temperature.  We can make sure you're not getting knock or detonation in real world usage.  Improve gas mileage at cruise, such as highway speeds.  Enable engine protection mechanisms such as overboost, or lean protection.  Calibrate boost by gear for maximum traction.
And now, the technical bits:
Your car has to be mechanically sound.  Suspension must be working and safe.  The engine cannot be leaking excessive coolant or oil.  The engine cannot be smoking, or burning oil.  The exhaust must not leak.  The car must be road-legal and plated, unless you are interested in street tuning your vehicle at a racetrack.  You must have an engine management system of some kind installed.  You need to have a wideband o2 sensor wired into the engine computer, or it needs to have a direct computer interface.  The wideband o2 must be readable by a computer in some fashion, preferable within the engine management software itself.  Our computers are compatible with anything, supporting serial, usb, and bluetooth.
Our knock sensing involves a wire tap into your factory knock sensor.  Generally this is easily accessible where the engine harness meets the engine computer.  What we do is record the audio picked up from your factory knock sensor, and analyse it after every pull for detonation, aka knock.  A technical approach to an old fashioned technique.
Prepare yourself like you would for a dyno session.  Make sure you're base timing is set (16° for most Hondas).  We will make sure you're base timing is set, but if we have to adjust it, that takes more time from your session.
Disclaimer: All tuning services are best effort, and no warranty is expressly implied or intended.   Best efforts will be made to improve and not damage or destroy any customer items.  If unforeseen failure occurs, you will be hand in hand with us for the process, and will not hold the tuning staff at fault or accountable.  We will only proceed making changes and testing if both the tuning staff and customer feel comfortable; and the session can be halted at any point for any reason, when either the tuning staff or the customer sees fit.
Ready to schedule a session:
Give us a heads up.  Call or text 219-510-2073, or email yblegal@yblegal.net and we'll coordinate with you, and answer any questions you may have.